Contaminants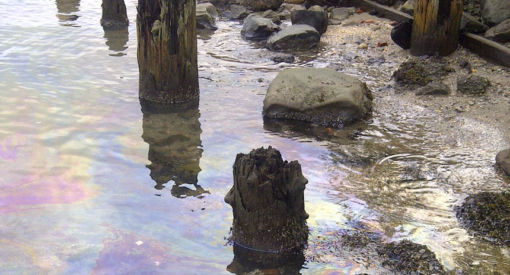 Keeping Water Clean
The ocean and especially the Salish Sea contain many pollutants, some of which have been there for generations and some new ones entering today.
Contaminants enter the Salish Sea and other waterways from rainwater running off parking lots, houses, and industrial sites; from sewer and other wastewater systems; from the air; from other animals; and from direct pollution, such as oil and chemical spills. Once there, they are eaten and absorbed by the smallest of animals, which are eaten by salmon, and ultimately eaten by orcas.
Contaminants are poorly metabolized, meaning they stay active in the body longer, causing more damage over time. Contaminants can cause health problems in orcas and their food, such as altering their hormone levels, making it harder to have babies or increasing miscarriages, reducing their ability to fight diseases, damaging their neurological systems, and causing cancer.
When Southern Residents begin to suffer from a lack of food, their bodies use their fat to maintain their energy. The contaminants stored in their fat are then released into their bodies, potentially making them sicker.
The task force developed several recommendations for reducing the exposure of orcas and salmon to contaminants. Learn more about these recommendations and the progress being made.
---
Graphic courtesy of the Defenders of Wildlife and Washington Environmental Council. The full graphic may be found at Orcas Love Rain Gardens. 
Task Force Recommendations