Prey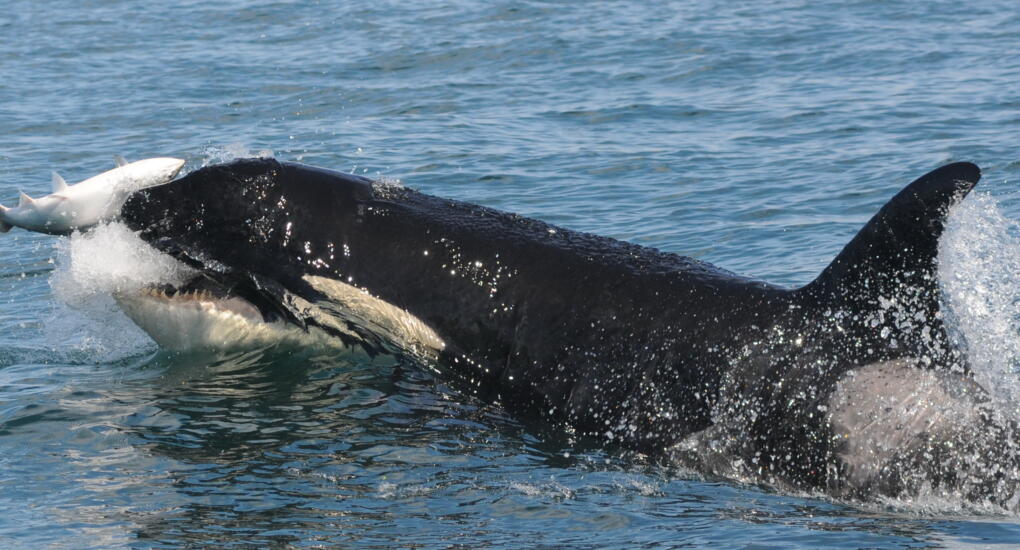 Orcas are Hungry
One of the things that distinguishes Southern Residents from other orcas is what they eat. Unlike other orcas which eat different kinds of fish, seals, octopus, and other marine mammals, Southern Residents eat mostly Chinook salmon. Scientists estimate that 80 percent of their diet comes from this once plentiful fish.1
The declines in the number of salmon began in the late 1800s. As cities and towns grew, salmon habitat was destroyed. Logging, farming, dams, pollution, and water use damaged the places salmon live. By the end of the 1900s, salmon species were listed as threatened or endangered across three-fourths of Washington State, with Chinook being the least abundant. Not only are there fewer of them, but Chinook, which are the largest of the Pacific Salmon species, are getting smaller.2
To improve salmon populations, hatcheries were built to produce salmon so there would be enough for industries, for food, and for recreational fishing, and now for conservation and orca recovery purposes.
In 1999, the State wrote its first Statewide Strategy for Recovering Salmon: Extinction is not an Option. The strategy recommended creating a network of organizations in seven salmon recovery regions across the state. Those recovery organizations wrote plans for the salmon, steelhead, and bull trout in their areas, and today are implementing those plans. The strategy was updated in 2021: Governor's Salmon Strategy Update.
The work to date, has slowed some of the declines but far more needs to be done. Experts estimate that only 22 percent of the projects needed is being funded today. Both funded and unfunded priority salmon projects are tracked in the Salmon Recovery Portal, which is an online database that houses salmon habitat recovery actions across the state. Priority projects are identified each biennium and submitted to the Legislature for funding. Local salmon recovery practitioners provide the list of projects that, if funded, would help protect and restore salmon habitat. Review the current list of planned projects with the Planned Project Forecast Dashboard. The chart below provides an overview of how salmon and steelhead are doing in Washington.
To see more details about salmon recovery efforts and how salmon are faring in your community, visit the State of Salmon in Watersheds Web site.
The task force developed several recommendations for increasing the number of salmon. Learn more about these recommendations and the progress being made.
---
Photograph by the National Oceanic and Atmospheric Administration
1M. J. Ford, J. Hempelmann, M. B. Hanson, K. L. Ayres, R. W. Baird, C. K. Emmons, J. I. Lundin, G. S. Schorr, S. K. Wasser and L. K. Park, "Estimation of a Killer Whale (Orcinus orca) Population's Diet Using Sequencing Analysis of DNA from Feces," PLoS ONE, p. 11(1):e0144956. Doi:10.1371/journal.pone.0144956, 2016.
2Ohlberger, E. J. Ward, D. E. Schindler and B. Lewis, "Demographic changes in Chinook salmon across the Northeast Pacific Ocean," Fish and Fisheries, pp. 533-546, 2018.
Task Force Recommendations
New Action